From time to time we will offer some of our restoration tips for your VW. We will show you ways to put your classic back together with home tools to save on time and money.
By signing up for our newsletter, you can get these tips delivered straight to your inbox.
Sign up today!
List of VW Bug Restoration Tips
This is a How to on 1965 and later Beetle Door Assembly.
---

Simple solution to your inner scrapers, stop them from curling downward when you roll the window down.
---

This is a short tip on spotting and or fixing one piece windows and going back to original vent windows.
---

This is a short video on listing your VW or any classic car online. What not to do and what to do to have a successful sale.
---

This is a short video showing how to remove and install Beetle Outside door handles.
---
Quick How to by Rick Higgins from www.BugMeVideo.com on changing ignition switch in late model beetles. Chris Vallone
---

Short tip on stopping the notorious rear main seal oil leak with Speedi Sleeves.
---

Short tip on installing your engine seal and preventing overheating issues.
---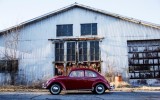 I see a growing trend these days on the Internet with classic car for sale ads claiming "ALL ORIGINAL" or the famous "BARN FIND" claim.
---

Watch this 4 part Video on 1600dp Motor Engine Rebuild
---