Many times while we're working on Build-A-Bugs, we come across a vintage VW Bug that we just have to work on. These bugs are our in-progress projects that will eventually be listed on this page.
Once a bug is for sale, you will see it posted here.
*FULL Disclaimer HERE*  Please read before a purchase.
==============================================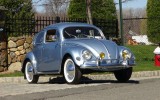 Damn what can I say, another beauty! I had this great Beetle a few years ago, we won several trophies and driving it was such a dream. FOR SALE!
---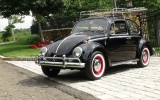 Hey Guys, here is another nice one for ya, a solid 1966 Black Beetle Sedan.
---