Many times while we're working on Build-A-Bugs, we come across a vintage VW Bug that we just have to work on. These bugs are our in-progress projects that will eventually be listed on this page.
Currently we are working several Projects including Build-A-BuGs.
Once a bug is for sale, you will see it posted here.
*FULL Disclaimer HERE* I know I know, but we have to in today's mumbo jumbo day.
This is with all bugs that are for sale (not including Build-A-BuGs) on www.ClassicVWbugs.com
When you purchase a VW from us;
SHIPPING: It is your responsibility to pay for shipping unless otherwise stated.  I can hook you up with a great guy to get a trucker for you.
All city, state, taxes and registration fees are the responsibility of the buyer.
The Rest
Car is sold as is no warranty. All Sales are FINAL. No renegotiations when transaction closes. I describe these Vehicles to the best of my ability. Some conditions and possible uses are a matter of opinion. If you need more clarification, email me at chris@classicvwbugs.com or call 845.290.9900.  Please understand, these cars are not BRAND NEW, they are 40+ years old and unlike cars today they will need general maintenance and TLC.  We encourage YOU to come and inspect the car yourself or hire someone to do so.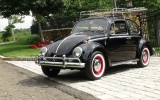 Hey Guys, here is another nice one for ya, a solid 1966 Black Beetle Sedan.
---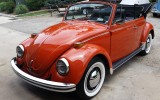 Found this BuG on eBay and it was only 30 min from my shop in Ridgefield NJ.
---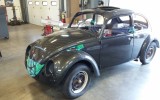 In the Summer of 2015 I came across this cool looking '66 Sunroof bug on craigslist.
---
A Great investment! FOR SALE 1951 Split Window Crotch Cooler Beetle.
---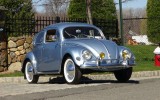 Damn what can I say, another beauty! I had this great Beetle a few years ago, we won several trophies and driving it was such a dream. FOR SALE!
---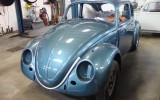 1958 Beetle Bug Project Sedan for 2016! This car has gone through a complete body off painted restoration.
---