Hey folks, here is a quick tip on making your brake drum an easy install job.
---

This is the 34th annual South Florida Fort Lauderdale Show N Shine VW show for 2017! Cool show in Sunny South Florida!
---

Just a short video of our monthly open house shows we have at our shop at www.ClassicVWbugs.com. See the cars we are working on and show off your DuB!
---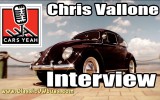 Classic VW BuGs Cars Yeah Chris Vallone Story Biography Beetle Interview
---

Here is a short tip on Rear Convertible Beetle Quarter window Scrapers installation.
---

Just a short video showing us using our steam power washer to blast a VW motor to get it clean from grime or gunk.
---

This is a short video showing a recent trick I figured out when removing the door/glass mechanism on a 65 and later VW beetle bug door.
---

Routine cleaning of automotive glass removes light dirt and contaminants and requires nothing more than a good glass cleaner and chamois.
---

This is just a short teaser to get you hyped on my new upcoming series, a 1954 Oval Window Beetle 36hp Engine Build.
---

Here is a car we found in the North East for a client on our "Build-A-BuG" program. A 1957 Oval Window Ragtop Bug, Fully Restored in Polar Silver.
---