From time to time we will offer some of our restoration tips for your VW. We will show you ways to put your classic back together with home tools to save on time and money.
By signing up for our newsletter, you can get these tips delivered straight to your inbox.
Sign up today!
List of VW Bug Restoration Tips

This short video shows you how to and why to blast your vintage VW down to bare metal before painting!
---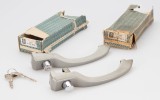 Many people want to use and or restore their original door handles for their beetle. This will show you some tips on how to do that.
---

In this short video I show you how to fix the old broken fuel pump base stand caught in your engine block on your Vintage VW
---

To many this seems like a tough job to do. But I made this video for the guy who is in his garage, on the floor, looking to get a little dirty and have the job done within an hour or so.
---

This is a short video on how to remove your engine from your classic VW beetle bug.
---

In this short video I show you how to clean up and partially restore your Vintage VW Carburetor. Chris Vallone
---

This short video I show you how to get more options on the table for TMI OEM interiors.
---

In this short video I discuss how to adjust your shifter to clear any grinding of gears or sloppiness of shifting.
---

Is your window too tight sliding up and down in your door?  It is probably your "NEW" Vent Post Felt Channel.  In this short tip I show you how to make your own Vertical felt for your vent window post.
---

This is another way to put your inner scraper in without much hassle.
---