From time to time we will offer some of our restoration tips for your VW. We will show you ways to put your classic back together with home tools to save on time and money.
By signing up for our newsletter, you can get these tips delivered straight to your inbox.
Sign up today!
List of VW Bug Restoration Tips

A video on How to Prepare your Volkswagen Beetle for Cross Country Trip.
---

This is part 6 series on a 1955 VW Beetle Ragtop Project Garage Find that we took to the road to Rhode Island to BUY.
---

This is a short video on Restoring your VW Speedometer.
---

Here is a short video of a freshly rebuilt and the 1st time starting an Okrasa 36hp Engine Build.
---

Many folks are looking to purchase a bug for the up coming show season, here is the one stop video series on "what to look out for before buying a bug!"
---

Short video on how to restore and reupholster your Type 1 Beetle Front & Rear Seats.
---

A two part series on "How to Barn Start" your old Beetle engine for the first time in a LONG time.
---

Bruce Hendel of VP Racing Fuels has strategies and products to protect your fuel system.
---

This is a short tip on installing your Beetle Rear Engine Decklid and Spring.
---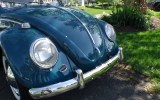 This is Wheeler Dealer Episode of Restoring an early 60s Beetle with Edd China.
---