From time to time we will offer some of our restoration tips for your VW. We will show you ways to put your classic back together with home tools to save on time and money.
By signing up for our newsletter, you can get these tips delivered straight to your inbox.
Sign up today!
List of VW Bug Restoration Tips

This is a short tip on Classic VW BuGs DeClutter How to Tip Keep Your Beetle Shop Work Area Clean to Restore your VW.
---

This is a new Classic VW BuGs Step By Step Beginners Restoration Beetle Note Guide Video, get your pad and pen ready, I discuss the steps to take to tackle your resto.
---

This is a short video on the Classic VW BuGs How to Install a Beetle Front End Anti Sway Bar Kit.
---

This is a short tip on How to Remove Fix Rear ClunK Beetle Noise Sounds
---

This is a short video of one of our projects we are working on. This will be a concourse museum piece 1967 Beetle Sedan.
---

This is a short Review/How to tip on Installing the Vintage Car LEDs for your Classic VW or any Vintage Car.
---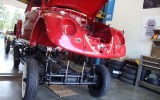 This is part 1&2 of the completed 1965 Ruby Red Build-A-BuG project we worked on for a client.
---

This is a short video on directions on How to Install a "One Piece" Headliner in your Vintage VW Beetle.
---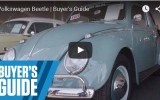 When buying a Volkswagen Beetle there are a few things you will want to check before the purchase.
---

This is a short tip on stopping the fuel gas odor that can leech into the inside cabin of your VW.
---