From time to time we will offer some of our restoration tips for your VW. We will show you ways to put your classic back together with home tools to save on time and money.
By signing up for our newsletter, you can get these tips delivered straight to your inbox.
Sign up today!
List of VW Bug Restoration Tips

This is a short tip on installing your Beetle Rear Engine Decklid and Spring.
---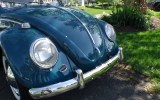 This is Wheeler Dealer Episode of Restoring an early 60s Beetle with Edd China.
---

How to on restoring your Ragtop Sunroof Mechanism for your Vintage VW Beetle!
---

This is the short tip on installing the top "U" portion of a 63 and earlier ragtop headliner.
---

Short tip on 1967 and later Beetles on removing old chrome molding, clips, and Installation of all new Clips and molding.
---

This is a short tip on installing Vintage Beetle Mud Flaps.
---

This is a quick "How To" on removing your 1962-1967 Fuel Gauge from your Beetle Dash Board.
---
This is a How to on 1965 and later Beetle Door Assembly.
---

Simple solution to your inner scrapers, stop them from curling downward when you roll the window down.
---

This is a short tip on spotting and or fixing one piece windows and going back to original vent windows.
---