Many times while we're working on Build-A-Bugs, we come across a vintage VW Bug that we just have to work on. These bugs are our own in-progress projects that will eventually be listed on our VW Bugs For Sale page, or unless we want to keep em! =o)
Currently we are working on 16 Projects including Build-A-BuGs.
---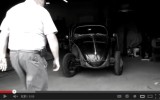 This is a multi part video series on a 1955 VW Beetle Ragtop Project Garage Find that we took to the road to Rhode Island to inspect and buy! Updated 3-5-2015!
---