Many times while we're working on Build-A-Bugs, we come across a vintage VW Bug that we just have to work on. These bugs are our in-progress projects that will eventually be listed on our VW Bugs For Sale page, or unless we want to keep em! =o)
Currently we are working on 11 Projects including Build-A-BuGs.
---
Yet another Classic VW BuG comes into our arms, a 1954 Oval Window Ragtop! Pics updated 6-26-14
---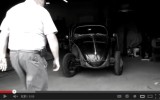 This is a multi part video series on a 1955 VW Beetle Ragtop Project Garage Find that we took to the road to Rhode Island to inspect and buy! Updated 6-26-14
---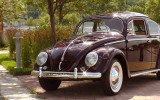 I recently purchased a new project for Pops and I, a 1952 VW Split Window Zwitter Beetle. This is my current Show Car.
---