How to on restoring your Ragtop Sunroof Mechanism for your Vintage VW Beetle!
---

This is the short tip on installing the top "U" portion of a 63 and earlier ragtop headliner.
---

This is what we call here the "Holy Grail" of Beetles! You know I want one. =o)
---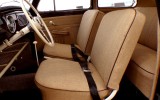 We are Now Offering 3 Exclusive Signature Vallone Beetle Interior Kits
---

It's only the most manufactured car in history.
As the old commercial tagline goes: "A Volkswagen is never changed to make it look different, only to make it work better.
---

Short tip on 1967 and later Beetles on removing old chrome molding, clips, and Installation of all new Clips and molding.
---

This is a short tip on installing Vintage Beetle Mud Flaps.
---

Talk about COOL! The first Zelectric BuG is Ready to go. A 45k Walk around!
---

Part 1-3 Video of our 2014 October Fall Foliage Cruise into the Hudson Valley NY is OUT NOW!
---

This is a quick "How To" on removing your 1962-1967 Fuel Gauge from your Beetle Dash Board.
---