This is a short tip on which floor pans are correct for your 1955 and earlier Beetles when it comes to installing new ones. Check out www.KlassicFab.com for the right pans. Chris
---

This is the 2013 VolksWorld VW Show. Pre67 shot the video to this show, many of the videos they put out are well put together. See if you can spot some real rare birds in the show.
---

This is the 2013 South Miami Show N Shine VW show in Ft. Lauderdale Florida that I attended in March of 2013.
---

This is a 4 Part Series on the Famous "One Year Only" 1967 Beetle. We discuss the obvious changes, upgrades, and one year only features that make this car so special.
---

Just came across this video on youtube by the group "Just Kampers" on How to adjust & or change your points and condenser.  This tip should be part of everyone's tune up bag!
---

This is a short 2 part demo by www.Wolfsburgwest.com showing how to restore your seats for 68 and later bugs. Part 1 Part 2
---

In this short tip I show how to remove old VW valve guides and install new ones.
---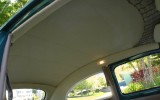 Looking to spruce up the interior on your pride and joy? Start with this Downloadable course and learn to use inexpensive tips and tricks to get the job done right!
---

This is a short video series on Heater Channel Repair on your Vintage VW. A full extensive DVD can be gotten by the "BuG Me Video" team. Pt.1 Pt.2 Pt.3 Pt.4 Pt.5
---

There are a bunch of videos on youtube that are of old car graveyards, I just came across this one, a bunch of VWs are in the mix.
---