Wishing everyone in the Classic VW Beetle Bug world a Happy and Healthy Merry Christmas! Check out the Cool Xmas Animations.
---

A promotional film, shot in 16mm, from 1964, intended to coax auto businessmen to invest in a VW dealership.
---

This is a Short Video on 1965 and Later Beetle Vent Window Restoration Assembly.
---

In this short video I describe and explain my method to detail a vw Beetle BuG motor.
---
This is a 1952 Split Window Ragtop Zwitter Beetle Restoration that is part of our Build-A-BuG program.
---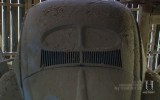 This is the full episode of the History Channels American Pickers "Beetle in a Haystack."
---

Artist Manuel Campa knows the magic formula of earning a living from the things that make him happy.
---

Short video on a cool rare tool 655/3; For various compressing purposes, such as ball joint front trailing arms.
---

This is the Classic VW BuGs Fall Foliage Beetle Hudson Valley NY Cruise 2015 Video Series in HD.
---

This is a short tip on Classic VW BuGs DeClutter How to Tip Keep Your Beetle Shop Work Area Clean to Restore your VW.
---