1952 Split Window Zwitter Beetle Ragtop Build A BuG Completed! Final Video HERE!
---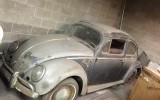 Here is a compilation of some of the best video produced road trips we have done to see some barn/garage find Beetles.
---

Just a short video on our current Beetle Bug projects that we are working on and finishing up. My Volkswagen Wonderland!
---

Short video on my take with the all original 1960 VW Beetle that was once part of Seinfeld's car collection.
---

This is a quick video on patching a floor pan section on a Vintage VW Beetle or Ghia.
---

This is a two part video series on the steps to build your Beetle Doors for a 1965 and later bug.
---

Here is a short tip on installing the 1966-1967 two year VW Hub Cap.
---
Let's Relive the Journey in this multi 9 part video series on a 1955 VW Beetle Ragtop Project Garage Find. We took to the road to Rhode Island to inspect and seek out this beauty.
---

Few designs are as classic as the original People's Car. It is as lovable as a puppy and as recognizable as the Eiffel Tower. But, as Benardo points out, "they're dirty and slow."
---

In this video the restoration continues on the 1954 Oval Window Ragtop Bug, we blast the car down to bare metal.
---