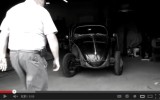 This is a multi part video series on a 1955 VW Beetle Ragtop Project Garage Find that we took to the road to Rhode Island to inspect and buy! Updated 6-26-14
---

This is the 2013 Bound Brook NJ Show N Shine Air-cooled VW Event hosted by the Central NJ VW Society.
---

This show comes around only once every 4 years in Germany. This is the best you get! The rarest of the rare is there.
---

Is your window too tight sliding up and down in your door?  It is probably your "NEW" Vent Post Felt Channel.  In this short tip I show you how to make your own Vertical felt for your vent window post.
---

This is another way to put your inner scraper in without much hassle.
---

This is a short video on How to install your engine tar boards for your Vintage VW Beetle.  We sell these Boards.
---

This is a story of a group of "at risk" kids that turn a VW Karmann Ghia to electric.
---

Short tip on how to adjust your bowden clutch cable tube for your vintage VW.
---

Another great video by the folks at www.pre67vw.com of Stanford Hall 2013
---

This is a short video on how to replace your rear torsion arm bushings for early swing axle VWs.
---