Get the history of the California dune buggy from Bruce Meyers himself!
---
This is a How to on 1965 and later Beetle Door Assembly.
---

This is Part 1 of a road trip video Pop and I did into CT. to see some Beetles in Sept. of 2014. More to come.
---

Simple solution to your inner scrapers, stop them from curling downward when you roll the window down.
---

This is a short tip on spotting and or fixing one piece windows and going back to original vent windows.
---

This is a short video on listing your VW or any classic car online. What not to do and what to do to have a successful sale.
---

This is a short video showing how to remove and install Beetle Outside door handles.
---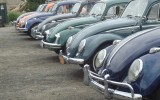 This was the special event show for Scott Hicks of Inspire Veterans, all to benefit our soldiers coming back from battle with PTSD and Depression
---

Short tip on stopping the notorious rear main seal oil leak with Speedi Sleeves.
---

Came across these guys on my internet travels! So cool to convert to an electric bug!
---