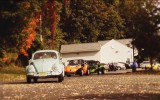 Our 2014 "Fall Foliage VW Cruise" into the Hudson Valley DATE IS SET! Saturday October 18th with a rain date of the 25th.
---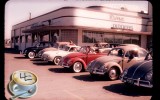 Special Event Inspire Vets! That's right guys, we will be having our 4th Air-Cooled "DuBs & Coffee" gathering Sunday August 3rd (weather permitting) at 10am-1pm at our shop 22 Burts Rd. Congers NY 10920. This is our 4th show/open house gathering of the season as we sail through the Summer.
---

Watch this 4 part Video on 1600dp Motor Engine Rebuild
---

I came across this video on my internet travels, this is a restoration on a late model beetle from start to finish!
---

In this short video I show you how to mount your fenders and new German Fender Beads.
---

This short video shows you how to and why to blast your vintage VW down to bare metal before painting!
---
This video shows how to remove your old clutch cable and pedal cluster and replacing it with a new one.
---

I had a blast down in Miami 2014 with the VW Volksblast Air-Cooled Car Show. The scenery is awesome, the atmosphere is great, and yeah I got away from NY WINTER for a few days.
---
I came across this Documentary recently through my Vintage VW Travels on the internet. This is an amazing film story of a 1955 VW Beetle that has been around the world.
---

In this short video I show you how to fix the old broken fuel pump base stand caught in your engine block on your Vintage VW
---