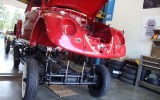 This is part 1&2 of the completed 1965 Ruby Red Build-A-BuG project we worked on for a client.
---

The story of how a strange looking, pre-war German car called the Beetle became a worldwide automotive icon.
---

This is a short video on directions on How to Install a "One Piece" Headliner in your Vintage VW Beetle.
---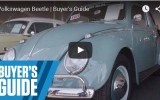 When buying a Volkswagen Beetle there are a few things you will want to check before the purchase.
---

This is a short tip on stopping the fuel gas odor that can leech into the inside cabin of your VW.
---

This short video I discuss the current market state for the Vintage VW in 2015.
---

Here is a video update on a product called Quick Roof that we use to sound proof and or deaden the cabin of our VWs.
---

Classic of the Week isn't a beauty contest. It isn't about which cars are most original, or which have been most perfectly restored.
---

This is a short video on mounting your Vintage VW Beetle Body back down to its chassis.
---
This is the UK show For The Love Of Cars | Season 2 Episode 7 | Full Episode of restoring a VW Beetle.
---