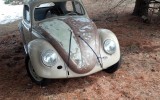 One of the nicest Oval Rag projects I have seen. PICS UPDATED 10-8-15. Two years in a row, two '54 ragtops were found in PA right by Harrisburg.
---

Here is a short video of a freshly rebuilt and the 1st time starting an Okrasa 36hp Engine Build.
---

Cool lil video with a Beetle breaking out of snow, ready for Spring! Video from "Dave" at Bugcity in Berlin CT.
---

This is a multi part series on a 1955 VW Beetle Ragtop Project Garage Find that we took to the road to Rhode Island to BUY. This is the March 2015 Update Video!
---

Came across this video on my internet travels, thought it was really funny and cool at the same time.
---

Many folks are looking to purchase a bug for the up coming show season, here is the one stop video series on "what to look out for before buying a bug!"
---

Here it is guys! The 2015 VolksBlast VW Show in South Miami Florida.
---

Short video on how to restore and reupholster your Type 1 Beetle Front & Rear Seats.
---

A two part series on "How to Barn Start" your old Beetle engine for the first time in a LONG time.
---

This is a Q&A Interview that I did answering my BuD and Pal Eric Shoemaker from 1967Beetle.com
---