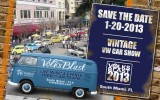 That's right, I headed down to sunny south Florida to attend this years VolksBlast VW show which was Sunday the 20th 2013.
---

In this Short video, I discuss how to remove old undercoating from your Vintage VW. We are in the middle of doing this procedure on a bug right now.  If you are making a show car, no one likes the site of undercoating.  Plus removing the old undercoating will expose rust areas you normally would […]
---

This is a real short video on the FIX that I found with the inside window scraper on your early bug. Be sure to follow my DOOR ASSEMBLY VIDEO to restore your whole Beetle Door Here from start to finish HERE.
---

This is a short tip on restoring your vintage VW Beetle Vent wing windows.
---

Short tip on what to do if you have to put in a new wiring harness.
---

In this short tip I discuss what to do when it comes time to winterize or store your bug.
---

The Video is out guys! I was editing this all day, I squashed an hour and a half of footage to 8 min! We had a smaller turnout than last time, but I gotta tell ya, if you missed the cruise, you missed a hell of a good time.
---

This is part 1 of the awesome Flanders NJ All Air-Cooled Gathering Classic Car Show of 2012.
We took home three trophies that day.
---

This is a short video on how to boost engine performance on your lil 36hp or 25hp Beetle Bug Motors.
---

In this short video I show you how to restore your Vintage VW Beetle Bug, Ghia, Bugs or any classic car steering wheel.
---