To many this seems like a tough job to do. But I made this video for the guy who is in his garage, on the floor, looking to get a little dirty and have the job done within an hour or so.
---

Just want to wish all my VduB BuDs a Happy and Healthy Merry Christmas and a Great New Year! Check out the cool Video Below made by www.Pre67VW.com
---

In this short video I show you how to clean up and partially restore your Vintage VW Carburetor. Chris Vallone
---

This short video I show you how to get more options on the table for TMI OEM interiors.
---

This is the 2013 "Fall Foliage VW Cruise" into the Hudson Valley NY.
---

Lately I have been getting word of SCAM artists posting up BOGUS ads on eBay selling VWs.
---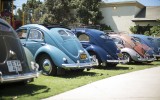 My trip to the 2013 So Cal Vintage Treffen Show was awesome.
---
This is the VW Beetle Documentary that was showcased back in the 90s on A&E, Discovery Channel, and the History Channel.
---
Just came across another documentary film on the Beetle. A celebration of the VW Beetle, looking into the history and astonishing coincident that lead to its results after World War II.
---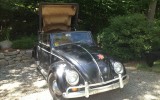 This is an other incredible vintage classic Garage Barn Find here at www.ClassicVWbugs.com. A 1954 VW Beetle Convertible, one owner car.
---