Many folks are looking to purchase a bug for the up coming show season, here is the one stop video series on "what to look out for before buying a bug!"
---

Here it is guys! The 2015 VolksBlast VW Show in South Miami Florida.
---

Short video on how to restore and reupholster your Type 1 Beetle Front & Rear Seats.
---

A two part series on "How to Barn Start" your old Beetle engine for the first time in a LONG time.
---

This is a Q&A Interview that I did answering my BuD and Pal Eric Shoemaker from 1967Beetle.com
---

Bruce Hendel of VP Racing Fuels has strategies and products to protect your fuel system.
---
Awesome lil 1966 VW Beetle Commercial
---

This is a short tip on installing your Beetle Rear Engine Decklid and Spring.
---

To all of us here at www.ClassicVWbugs.com…. wait… "to all here?" It's just me and Pops! ha! =o)
---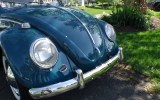 This is Wheeler Dealer Episode of Restoring an early 60s Beetle with Edd China.
---