This is a short video on How To properly strip and paint your VW. This proper way to paint your Beetle. We do this kind of work on all of our Full Show Quality Restorations.
---

This is a short video on the Bear Mountain NY Wed. night Classic Car Cruise. We take our VWs to this show almost every week. The show goes from May-Sept. 6-9pm.
---

This is a short video on being safe driving your Vintage VW, make sure everything works, be prepared!
---
Classic Car Rescue Show on the Volkswagen Beetle
---

"Legend" is a short documentary about a personal obsession for the VW Bug with a mind of his own.
---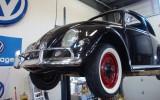 Lucky Larry's 1955 Ragtop Resto Series Update!
---

This is the Annual VW show held at Stanford Hall, Leicestershire, video created by www.pre67vw.com
---

This is part 6 series on a 1955 VW Beetle Ragtop Project Garage Find that we took to the road to Rhode Island to BUY.
---

This is a short video on Restoring your VW Speedometer.
---

This is a short walk around video on one of our Build-A-BuG projects we are wrapping up, a 1957 Oval Window Ragtop for Barry.
---