Please be patient.
Due to the high volume of submissions, it may take us a day or so to respond to your entry. Contact form is at the end of this page.
---
This is your chance to get the BuG of your dreams!
So what is "Build-A-BuG?" View 3 part video below, I explain.
Please View Our New (Updated 5/8/2013) Build-A-BuG Contract Form HERE in PDF.
See Part 2 HERE.
See Part 3 Where we talk about pricing HERE.
When "Build-A-BuG" started, the first video HERE.
We perform total ground up complete restorations. We specialize ONLY in the Classic VW Beetle. We take pride in every bug we produce and we know what is correct for your Vdub. We do not chop, cut, and or modify body structure in anyway. We prefer to keep the integrity of our bugs intact, this will only make our bugs appreciate in value year after year.
You are essentially driving off our lot with a brand new Classic VW Beetle!
As the restoration kicks into high gear for your car, you will be able to see the transformation on this website HERE along with frequent email updates of pics and video.
VIEW SOME OUR OUR FULL RESTORATION GALLERIES BELOW.  THIS IS HOW YOUR CAR GETS THE TREATMENT IT DESERVES!
and the other ongoing projects and their Gallery Books HERE!
If you cannot afford our "Build-A-BuG" restoration program, don't fret, I can "FIND-A-BUG" for you to accommodate your budget.  Call me for details 845.290.9900
See our BiZ showcased on FOX NEWS CHANNEL
---
FREE Video of Your Restored Bug Included
When we are finished with your car we will give you a full motion short video showcasing the car in all its glory on DVD.
View a 1958 Ragtop Sunroof Beetle Bug Video here
---
FREE Leather Photobook of Your Restored Bug Included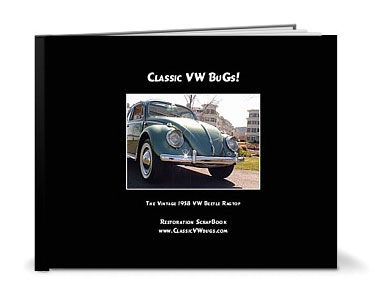 In addition, you will also be given a full 8.75 x 11.25 leather bound photo book showcasing the restoration from start to finish. This is perfect to bring to car shows. No more home made photo albums, this is the real deal.
---
Need to Figure Out Financing?
www.woodsidecredit.com/
www.jjbest.com
http://www.premierfinancialservices.com/
---
Build-A-Bug Submission Form
Please View Our Build-A-BuG Contract Form HERE in PDF. You may print and or email it to me or fax it. Or, call 845.290.9900 for more details