Added September 3, 2014 by Chris Vallone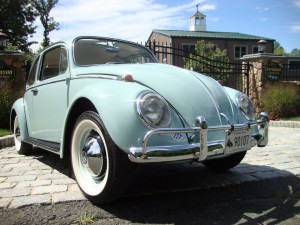 Just took this lil baby in on Consignment!
This is a 1965 VW Beetle Bug Sunroof Restored to stock Condition in the original color of Bahama Blue.  My good friend Chris G from CT gave me a shout to sell this car for him.  This car came from Cali and has a real nice paint job on it, there are a few imperfections I point out in the pics, but nothing that really deters the car, you have to really look to find them.
Undercarriage is really nice painted jet black.  Motor is a 1500cc 12v, not the original motor, but she rides real nice.  Took her for a spin around the block and the ride was enjoyable.  No shimmes, no shakes, not loud like some VWs, and the radial White Walls make it real comfortable to ride in.
The interior was professionally done back to bone stock period correct.
This is a great High End driver/cruise night sunroof beetle.
Taking offers now, 845.290.9900
History I have based on the titles
:
– Original owner purchased 10/26/64 in San Mateo CA and then sold 5/1/06 (still in CA), at this point she had the curb tap and the tub needed some work
– Restoration took place throughout the rest of 2006 in San Leandro CA
– Car went to Fort Worth TX to next owner until April 2010, when I purchased. I also have the birth certificate that shows original sunroof and Bahama blue
– Replaced all fuel lines (including tank filter) – summer 13
– POR pans, channels, and used Eastwood, rubberized rust-proofing paint on wheel wells – summer 13
– Coker classics, including spare – fall 13
– Clutch (German) and real main seal – summer 13
– Alternator – fall 13
– Rewelded gas pedal to floor – summer 12
– All new brakes (German), including master cylinder – summer 10 (lost receipt, F!)
– New battery – fall 13
– Compression readings March 2011 – 125 each cylinder
Awesome Car!
Chris Vallone
---
---