Added June 6, 2014 by Chris Vallone
Is it original or what?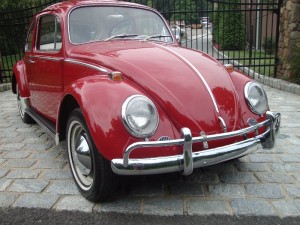 I see a growing trend these days on the Internet with classic car for sale ads claiming "ALL ORIGINAL" or the famous "BARN FIND" claim.
Seems like sellers are really trying to capitalize on these statements, and they throw it around like it is candy.  Many put out these claims and then do not have any paperwork or historical documents to back anything up.  It just seems like at least 75% or more of the ads that are showcasing classic cars for sale flurry these claims in.  And yes the VW Beetle ads are notorious for it too!
Yeah there are a lot of TV shows like Chasing Classic Cars, Wheeler Dealers, Counting cars, Barrett Jackson, and the list goes on and on that showcase cars like this.  But people at home see these shows and think "Hey I have one of them in the garage!"  They put an ad up on craigs, eBay, Hemmings, and throw around these words like crazy.
Now I understand, we need to sell from time to time, whether you need to pay off a debt, you are getting married, two kids fly out of the birth canal when you were only expecting one, your daughter married a drug dealer and you need to bail her out of jail, yada yada yada.  That last one I have actually seen written by the way! haha
So your words need to be glorified to spice up your car to make that quick sale, I get it.  But we gotta be truthful guys, I know it is the Internet and many times you are not face to face with a buyer, but we need to be careful.
You know me, I search for VWs on a daily basis, I have a good knowledge of these cars since I have restored and sold over 60 of them throughout the years.  I just love catching sellers in the lies they spew in their ad descriptions.  Some sellers totally contradict what they say in the same sentence.
For example:  Some of the best VW ads statements below
1.  Totally unrestored Beetle all original with a "Fresh Repaint."
Uh…Wait, I thought it was unrestored?
2.  Original 23,000 miles with a brand new rebuilt motor!
Nuff said.
3.  1968 Beetle Restored to Factory condition, resprayed in the Original Copper Metallic.
Copper? Original?
4.  Original 1967 triple white convertible Super Beetle! 
Uh… A super in 67?  Triple White?
5.  Barn Find Original 1959 Oval window Beetle!
Ok I thought maybe he got the year wrong…. but no it actually had the big square window, he just felt like calling it an oval. 
6. Solid Original Beetle!  No RUST!  Just needs heater channels and floor pans! Easy fix.
Just a lil rust I guess.
7. Original numbers matching 1963 Beetle sitting on 67 pan!
8. Barn Find 1952 Split Window Beetle in Iowa barn All Original Unrestored!
Meanwhile it was yellow, had high back seats, lowered, with a fuel injected motor installed in it.
Ok so you get my drift right?  Too many of these claims are out there in these ads, you just need to hone up a bit on What to look out for Before Buying a BuG!
Get a little knowledge on the history of the beetle, look at the year breakdowns and see what changes were made to the bug over the years. You can do an easy google search on that, you can also call me for help if need be.  
Other problems I see are the length of the descriptions too.  People are on the go and want to just list something quick, so these ads descriptions are too short and they leave much to be desired.  There are very few "All Original" "Barn Finds" out there that are truly what they state.
Out of the hundreds of Beetles I have gone to see and or bought/restored, maybe a handful are the true gems.  Like this 1965 Ruby Red Beetle I found last year just an hour from me, that is one of the best I have come across.
Or this 1954 Convertible I found.
So tip of the day, do your HW, if it sounds too good to be true, it probably is.  Do not buy on impulse, good things happen to people who are patient.
---
Tags: barn find,How to Buy,Original VW Bug,VW Bug Buying,VW bug original,VW Original Beetle
Categories: VW Restoration Tips
---