Added May 22, 2014 by Chris Vallone
A Plaque Award received in the mail this week?
I received a Plaque in the Mail this week from the "Common Gear" VW group.
"Heroes of Antique Volkswagening" recognition for this year!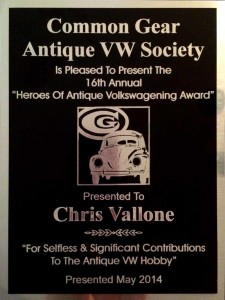 This was a nice surprise! Never thought I would have gotten something like this, I am honored to accept the award, thanks so much guys!  This is great.  =o)
It is my passion and drive to serve the VW folks and get these historical cars back on the road.
Thanks Again!
---
---