Added April 9, 2014 by Chris Vallone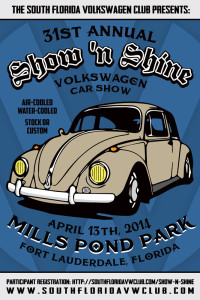 That's right guys, I am flying down this weekend to attend the 31st annual South Florida's VW Club "Show 'n Shine" in Fort Lauderdale.  I went last year to this show for the first time and it was awesome.  It is a good time to get out of the cold here in NY and kick off spring.  This show lands perfectly on the same weekend as the Barret Jackson Classic Car Auction in Palm Beach Florida, so I get to kill two birds with one stone, I love it!
More info about the show can be seen HERE.
Below is the 2013 show that I filmed.  Stay tuned for info!

---
---