Added February 28, 2014 by Chris Vallone
Just got the memo this morning from a cool friend of mine Jeremy Noble who owns "Vintagevolks.com," he has now created an independent VW US magazine called Volksamerica!  My 1952 Split Window Zwitter Beetle made the premiere issue.  I can't thank him enough.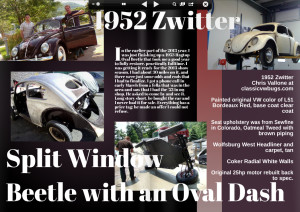 We need another US magazine here in the states, the only option we have is HotVWs.  I loved it when we had VW Trends back in the day.
Right now the issue is free to read and is in digital format!  This seems to be a good trend with these magazine.  Now I do not have to have piles of back issues laying around my house.
Check it out here, scan through it, my '52 Beetle is about mid way through.

---
---