Added January 9, 2014 by Chris Vallone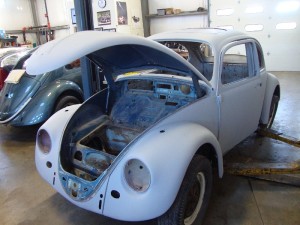 *Many folks have inquired on this car as a "Build-A-BuG."*  We are taking submissions for it, so if you want it, please contact me  845.290.9900.
I recently came across another '67 project beetle, this time a Sunroof.
I found this car on my internet travels, 3000 miles away in Sunny California.  It was at a killer price plus all the extras the seller was throwing in with the deal, two motors, extra door, parts, etc.  Plus the fact that the car was never hit and was pretty solid, the only real heavy metal work we have to do is replace the floor pans.  To many people, these kind of projects can scare people, especially when they are all stripped and the parts are scattered in boxes.
I personally like these projects, you can really see what you are up against.  The fact that this car is stripped, I was able to see how bad the car really was.  Not to my surprise, the car was pretty damn good coming from the dry climate of cali.
So this will be a body off resto, replace those pans and we are good to go.  Floor pans for the most part are readily available and easy to replace when you have the body off the chassis.  Heater Channel repair is a different story.
My friend and I (Eric Shoemaker) from 1967beetle.com will be documenting this restoration together.
Just another one added to the list… stay tuned.
Take a peek here at the SLIDESHOW GALLERY.
---
---