Added November 14, 2013 by Chris Vallone
G'day Chris,
Norm from Sydney, Australia and just writing to say I follow your videos and tips and have seen how jobs are done as opposed to reading the manuals.
I'm a proud owner of a 1965 Standard Beetle (Aussie built of course) and is still the original 1200 engine, 6 volt electrics and is my daily driver.
Here's a news clip video of a recent fundraiser I did from Sydney to Perth and back in June/July 2013 covering a distance of 9,030km (5,610 miles).
Also, here's one of my favourite photos in front of Ayers Rock last year.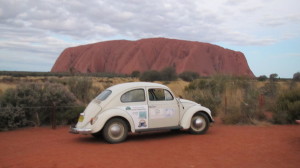 Keep up the good work.
Cheers from Down Unda.
Norm Elias
---
---