Added May 31, 2012 by Chris Vallone
Classic VW BuGs June 1st Newsletter;
Here is what I have in store for you this week;
1. Palm Beach Florida VW Gathering this Sunday June 3rd
2. New Ladies Black Tank Tops on sale
3. Vintage DuB gathering at my shop Sunday July 1st
4. I hit the News again, front page of my local paper
5. 2 Part Video Tip on Brakes
Palm Beach Florida VW Gathering this Sunday June 3rd from 12-4pm
This is it guys, the Palm Beach Florida Gathering is this Sunday June 3rd from 12-4pm.
Vintage DuBs gathering in Royal Palm Beach Fl. 2nd SHOWING!
I am once again putting on an Air-Cooled Gathering on Sunday June 3rd 2012 in Royal Palm Beach at my sisters restaurant.  I will be flying down for the event!
Place? Francesca's Pizza & Wine Bar 11452 Okeechobee Blvd Royal Palm Beach, FL 33411 (561) 422-0600
Time? 12-4pm
Free Admission
Any Air-Cooled VW of any shape or size is invited! Bug, Ghia, Bus, Thing, etc. From Daily Drivers to Show cars!
Questions? chris@classicvwbugs.com 845.290.9900
I also have a PDF flier that you can download HERE.
So anyone in and around the Palm Beach FL. area come stop in to see the Air Cooled rides.  My sister's restaurant brings NY Italian style Pizza and food to Fl. By all means they NEED IT!  haha =o)  She has a beautiful wine bar as well, many wines imported from around the globe.
More info on the show this Sunday and past videos can be seen HERE.
New Ladies Black Tank Tops on sale
More shirts for the Femininas, this time black tank tops, one with the blue bug, one with the green bug.  Limited time offering.
Vintage DuB gathering at my shop Sunday July 1st

Come one come all! Mark your calendars, Summer Kick – Off Air-Cooled Gathering at my shop Sunday July 1st 2012 from 10am-1pm. Show off your air-cooled DuB of any shape and size, chat, mingle, relax, bring a picnic, whatever! This will be a great kick-off to the Summer. Free to all, open house of our new shop and the latest projects we are working on.  Food and drinks will be on hand.  Hope to see you guys all there, show off your DUB! Any questions contact me chris@classicvwbugs.com or call 845.290.9900
I hit the News again, front page of my local paper
Well my local paper in the NY Hudson Valley Region called me a few weeks ago when they got wind that I was on FOX NEWS and wanted to get a lil story as well.  We actually made the front page top fold of the paper.  The phone started chiming away around 6:30am yesterday morning once the folks in the area got their hands on a copy and it didn't stop till closing time.  They also shot a full video of the story that you can see on their website HERE LOHUD.COM  Nice piece, my pops actually got a few words in too, he da man! 
2 Part Video Tip on Brakes
Here is a two part video on working your VW brakes, outer wheel bearings etc.  I did not shoot this video.
Until then,
Have a great weekend!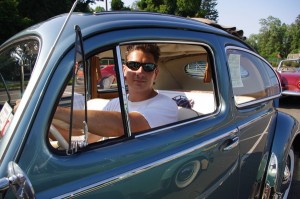 ---
Tags: Air-cooled gathering palm beach,Beetle Brake tip,Brake Tip,Classic VW Bugs Front Page,How to restore brakes,Journal News VW Story,Ladies Tank Tops,LoHud VW story,News press Chris Vallone,royal palm beach show,royal palm beach VW show,VW Brake tip,VW Shirts,VW show palm Beach Florida,VW Tank Tops
Categories: General News,Newsletter
---