Added May 31, 2012 by Chris Vallone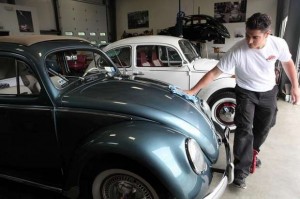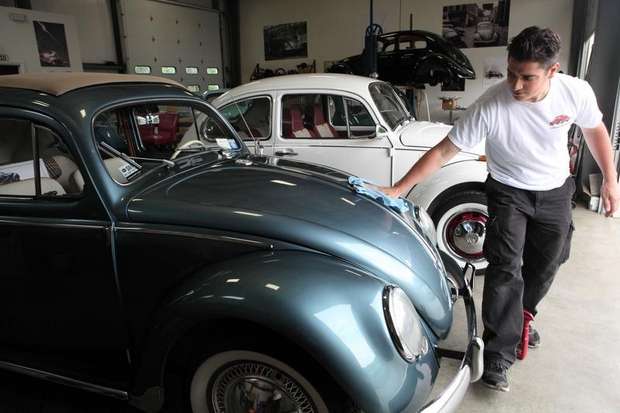 This is a short video that the Rockland Journal News http://www.lohud.com did a story on us in May of 2012 about my Vintage VW Business in Congers NY.  Even 9 News NBC & USA today used the story as well.
Written story bellow;
CONGERS, N.J. – Two were sitting under a tree in New Jersey, another languished partially restored in a garage in Minneapolis. One was hibernating in a barn outside Charlotte, N.C. Many have come from Arizona, New Mexico and California, where the dry air and salt-free roads have been kind to vintage Volkswagen Beetles.
All have found their way to a restoration shop in Congers, and like the dusty Bug found in a cave by Woody Allen in "Sleeper," all will see new life long after their original glory years.
Welcome to ClassicVWbugs.com, a two-bay workshop off an out-of-the-way industrial road near a trap rock quarry and not far from the Hudson River. The space holds cars in various states of rebirth, and is more laboratory than garage – noticeably absent are pools of gear oil, piles of grimy old parts and grease-smeared centerfolds. It is decorated, but with pinups of classic Bugs, banners, vintage ads and trophies.
"I don't do the grease monkey thing," said the shop's owner, Chris Vallone, 35, who studied filmmaking, cartooning and computer animation.
He doesn't do hot rods, either. No body-chopping here. Photos in magazines of early split-window Bugs being cut down or hacked up to house monster engines and showy exhaust pipes make him wince.
"We cater to the collector," Vallone said, "not the person who wants to pimp them out."
He focuses on his specialty – Bugs. No Karmann Ghias or buses.
The business began five years ago as a hobby in his home garage. Vallone would buy promising Bugs, fix them up and flip them. Then he and his father, NYPD retiree Chris Vallone Sr., opened the shop about three years ago. The business is almost all Internet, from parts procurement to sales. Its website, classicvwbugs.com, puts Vallone's visual education to good use. It's a popular destination for VW fans and offers videos, encouragement and advice for do-it-yourselfers. Once a month, usually the first Sunday, VW fans gather at the garage to hang out. They take their cars on a few cruises up the Hudson Valley each year.
Vallone spends two hours each morning and two more at night answering emails. The shop phone rings in the wee hours with calls from places such as Germany and Australia. Vallone has resisted buying a smartphone, just so he can disconnect and get some sleep. He's not complaining. He's one of those lucky people who has turned a passion into a viable business. And business is good.
Custom restorations – which come with rebuilt engines and odometers set at 00000 – cost $25,000 to $50,000. And there's a wait time of up to 2½ years.
"Some of them look like Swiss cheese, and when he's done with them they look like they rolled off the showroom floor," said Larry Calore of Congers, a former mechanic for a VW dealer who was helped by Vallone in restoring Bugs for himself and his wife. "He's a true craftsman, him and his dad."
The old cars are found around the country on eBay. They're hauled to New York on flatbed trucks, which can run up to $1,000. Once at the shop, they're disassembled to the chassis. Vallone works with other local shops for welding, body work and paint jobs. He and his dad reassemble the cars with new bumpers, upholstery and little-known dealer options, like venetian blinds for the rear window or clocks at the center of the steering wheel.
Calore takes his '67 Volkswagen Blue Bug out once a week.
"Everybody's got a story about a VW," he said of the people who stop and talk. "They had one, they had two, they had three, they went to Woodstock."
His wife's '68 Delta Green Bug gets her to work every day, and it's good for self-esteem.
"They get a lot of beeps," Calore said.
Vallone's prized possession is his 1955 oval window ragtop. He said it's the only Bug ever allowed entry to the Concours d'Elegance car show in Connecticut. He's gone to "bug-ins" with customers-friends whose cars came through his shop, and they've placed first, second and third.
VWs hold a special place in many people's hearts. The curvy body, friendly horns, airtight construction (remember slamming the door with the windows up?) and vinyl seats just got under people's skin. They even had a distinctive smell on hot days from horse hair-stuffed seats, and that cheerful tailpipe chirp was as much a part of the soundtrack of the '60s as any psychedelic band. Beetles began production in Germany in 1938, and the last one rolled off a Mexican assembly line in 2003. By that time, 21.5 million had been made.
"It was the single-most-produced model at that point," said Frank Cardone of Westchester Sports Car Club. He said the cars were popular for many reasons, including their small size compared to U.S. cars of the time.
"The noise of the air-cooled engine is just something different," he said. "And the size, the four-speed manual transmission, four-wheel independent suspension."
Classic VW Bugs will find a car and restore it to a customer's specifications, or restore a Bug someone owns. Vallone says 1967 and earlier make financial sense, depending on condition. Later models generally don't pay off. "There's sort of a Mason-Dixon Line," Vallone said of calling a restoration an investment.
He said many people he talks out of restorations are grateful later. But he does make exceptions. "If it's in the family, they don't care what it costs," he said. Case in point, an orange 1974 Super Beetle that's on deck for full restoration.
Vallone prides himself on restoring Beetles to their authentic specifications, but he made at least one exception there, too: He installed a leather interior in a job for a Texas oil man. Dealers never offered that option.
Vallone and his dad hope one day to get their hands on the Holy Grail of Bugs – a Hebmüller. It's a two-seat convertible, and only a few thousand were made.
"That would be awesome," he said. "There's one now online, it's over two hundred grand."
Copyright © 2012 www.LoHud.com. All rights reserved.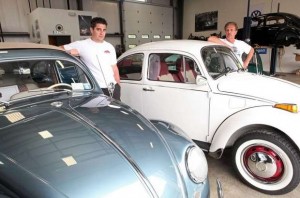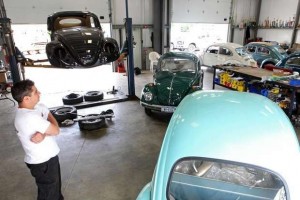 ---
---