Added May 1, 2012 by Chris Vallone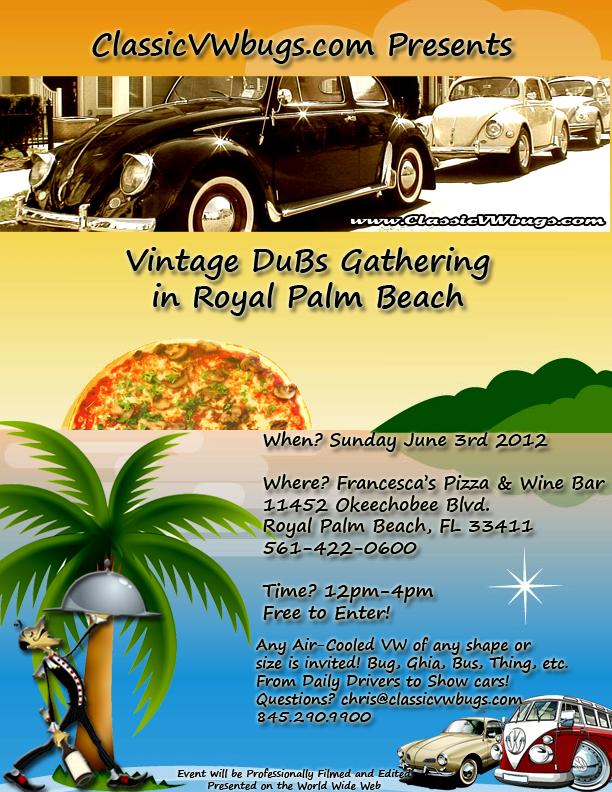 Vintage DuBs gathering in Royal Palm Beach Fl. 2nd SHOWING!
I am once again putting on an Air-Cooled Gathering on Sunday June 3rd 2012 in Royal Palm Beach at my sisters restaurant.  I will be flying down for the event!
Place? Francesca's Pizza & Wine Bar 11452 Okeechobee Blvd Royal Palm Beach, FL 33411 (561) 422-0600
Time? 12-4pm
Free Admission
Any Air-Cooled VW of any shape or size is invited! Bug, Ghia, Bus, Thing, etc. From Daily Drivers to Show cars!
Questions? chris@classicvwbugs.com 845.290.9900
I also have a PDF flier that you can download HERE.
So anyone in and around the Palm Beach FL. area come stop in to see the Air Cooled rides.  My sister's restaurant brings NY Italian style Pizza and food to Fl. By all means they NEED IT!  haha =o)  She has a beautiful wine bar as well, many wines imported from around the globe.
Here is a short video of her place presented on local TV in Palm Beach, the place is state of the art!

The show will also be filmed (BY ME!) edited with music titles & FX, as usual, and then presented for the world to see.
Here is a sample video of a show that I shot this past year in Cali, called the Vintage VW Treffen. My show in Fl. will be shot the same way.

I also shot the first gathering this past March 4th 2012 at my sisters place, check it out below.

The 1st showing was a success, everyone loved the atmosphere and of course the food, and asking for another gathering.  SO we are doing it! We are hoping this 2nd event will be even bigger!
Spread the Word! Hope to see some of my followers there.  This is a VW gathering for anyone, come chat, relax, mingle, show off your DuB, eat some great food, and have some fine wine.
The restaurant is suitable for children as well.
See ya there,
Chris Vallone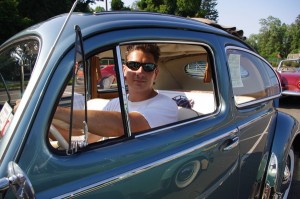 ---
---