Added April 17, 2012 by Chris Vallone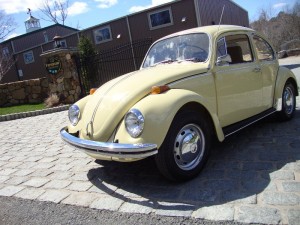 Found this car for a nice couple in South NJ.  They came into my shop wanting a bug, but could not afford the "Build-A-BuG" program.  So we had to try and find something to their liking, preferably already painted.  They were particularly looking for a yellow or tan bug, no frillz.
Sure enough I found just what they were looking for in New Mexico.  A "Shantung Yellow" beetle with tan interior.  She just needed a few things and she was ready to roll.
The cars out there are awesome, so dry! =o)  It is worth it to ship them in.
Check out the SMALL SLIDESHOW HERE.
---
---