Added October 7, 2011 by Chris Vallone
Classic VW BuGs Newsletter Oct. 7th 2011
Hey My VduB BuDs!
Well fall is in full swing and finally, FINALLY the weather here in the backyard of NYC is awesome.
Couple things for ya this week:
– The 1954 Build-A-BuG Ragtop Project is moving along.
– October cruise on the 22nd
– The Ivan Hirst 2nd VW Show Video
– Another tip buying a bug online

*The 1954 Build-A-BuG Project*
This car has been coming together nicely this week. I tackled the interior insulation and headliner. I grabbed a few tips from when I was out at the Vintage VW Treffen in September, applied what I already know, and made it look shazzy! Ragtop headliner installation could be tricky if you have never tackled it before, there is a lot of confusion of what gets tucked, which parts are seamless etc. This 54 ragtop is a three fold ragtop, it has a much larger opening. Three fold rags ended in '56 in turn for just a two fold and a smaller opening. To many VW enthusiasts, a three folder is just way cool and the one many want. =o) Oh yes I forgot, I have one!
Please check out the latest pics of this black on red beauty HERE.
Maybe learn a thing or two.
*OCTOBER CRUISE on the 22nd of this Month*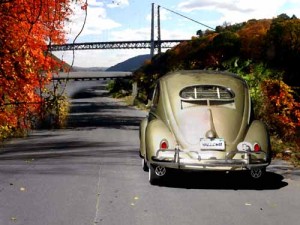 People are already on board to attend my first Fall Foliage Cruise into the Hudson Valley. We are meeting at my shop on October 22nd 9am, we depart at 10am and head north. Bring your air-cooled VW, we would love to have you! This will be about a 30 mile cruise, something memorable here at ClassicVWbugs.com. Please mark your calendars join us, it will be awesome!
*The Ivan Hirts Memorial 2nd VW Show in the UK*

www.pre67vw.com is a cool VW sight in the UK, they do some good videos on the vintage scene from the likes of "Bad Camberg" and the "Hessisch Oldendorf." They at least play some cool ole music and their photography on their latest videos is great, no more cell phone video shake. See their latest video of the Ivan Hirts Memorial above.
*Another tip Buying a BuG Online*
I continue to have trials and tribulations of buying a car on the net sight unseen, I just keep getting better. What do I mean by that? Well I have learned so much over the years buying these cars and learning the attitudes of basically 90% of the sellers, and that is they all switch gears when it comes time to sell. They turn into the car dealer, but there are ways to outsmart them.
As I stated in the past, you need to ask for more pics and ask REAL questions, questions that throw curve balls. You almost turn into a psychiatrist to see their response, ask nicely and go from there.
My questions are always;
Do you have any other pics of the car? (usually they only have a handful) Any shots of the undercarriage, spare tire tub, wheel wells, headliner, under back seat? etc. I usually wait for a response (I do not like to overload with questions right off the bat)
If they respond in a reasonable time and supply what I am asking for, then I move on to other questions like;
Does the Vin on the chassis match the vin on the body tag in the front trunk and title? Most do not even realize there is a body tag in the front trunk since it has been painted over a few times. But if they supply the pic of the front spare tire tub you might be able to find it yourself. If there is no tag in the front, it is a done deal for me, I move on. Numbers must match for me at least on the body and chassis.
Then I ask, (this usually gets them thinking) What kind of imperfections are in the paint and body, any pics of those? Most sellers DO NOT show the imperfections in the paint and body work, you usually have to press hard on those. It might just be people still have the ole newspaper ad placement mentality and expect you to come see the car not realizing that the internet ad is GLOBAL, not local. Many are shocked when I say I am in NY not in there home town of Alabama. But all in all, they want to hide them.
Many sellers respond; "What do you mean by imperfections?" or "There are some minor things here and there." That is a big red flag for me right there. If they are minor, why not show them? What are you afraid of? Your idea of minor and my idea of minor are two different things. I have had a seller tell me there was a minor "ding" on the front fender. So I pressed him to show the pic. After several attempts, that ding was not a ding, but a GASH, damage a good 6″ in size. This is mostly always the case, the DING or SCRATCH is larger than they state.
I always love the response "some minor damage, but an easy fix." Really? If it is so easy, why not U FIX IT??
So ask them, "Any waves, dents, dings, bubbles, scratches, orange peel, chips, soft spots, etc?" Some sellers at that point do not respond, some even go out to their garage, pull out their smart phone, snap a shot in the dark of their bug and email it to me, "oh yeah I can see that one!" So unreal sometimes. Some respond just very vaguely. "Oh yeah there might be one ding somewhere on the body, maybe hood or something…"
*QUICK TIP*!!! STOP SHOOTING WITH YOUR DAMN SMART PHONE! I KNOW IT IS CONVENIENT, BUT THE PIC QUALITY IS TERRIBLE.
I asked another question recently "Does the car smoke or PoP out of gear?" They responded, she doesn't pop out of gear…." "Oh… so…uh… I guess she smokes then huh?" I replied, no response again. So keep in mind, no mention of your question in return could mean the problem is there and you nailed it, time to move on.
Finally, somewhere in the mix of my questions I ask "what form of payment do you take?" Many just want cash, even if you are out of state and you plan to ship the car. That's fine if you want to send the green in the mail, kinda flirting with disaster there. SO then what do you do? Typically you move on. Some will take bank check, wire, money order etc. I have noticed more and more people jumping on paypal as a form of payment, which is what I like, quicker, safer, and buyer protection.
This is where buyers can really put it to the sellers. I will ask in the end "So when I buy this car, I will not find rust, rot, paint defects, she will run, she will drive, there is nothing else I need to do to this car other than what you stated in the ad?" That usually puts them off balance a bit and you will most likely get a hesitation. If that happens, be cautious, you have put some pressure on him at this point, listen to his or her response and make your decision. The seller should understand that you have buyer protection, (with ebay and paypal) he is not off the hook unless he states, "AS IS WHERE IS." At that point, buyer beware.
Ultimately it is in your hands when you buy. Pictures on the net make cars look nicer most of the time, you have to expect there will be issues that were not covered in the ad, after all these cars are over 30+ years old. Don't get me wrong, there are exceptions, some look better in person for sure, but with 90% of the cars I see online, I can spot many descrepancies. It is your money you are playing with, don't get burned, be smart. There is never a reason to argue, listen to their responses and make your decision, yea or nay. If you miss this one, there are more out there.
Until then… Have a great weekend,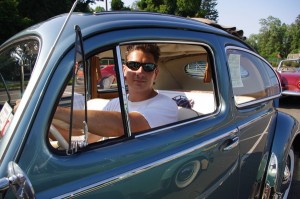 Chris Vallone
www.ClassicVWbugs.com
---
Tags: 1192cc,1200cc,1600cc,1950s,1954,1954 Ragtop,1959,1971,36hp,40hp,60s beetles,60s vw bugs,70s beetles,70s vw bugs,Air-Cooled,Aircooled,Beetle,Bug,bug show,Classic Beetle,Classic Bug,Classic VW Beetle,Classic VW Bugs,Euro,Euro Sedan,German,Germany,Ivan Hirst,Kafer,Old Bug,oldbug,oval window,Ragtop,resto,restoration,Standard Beetle,Standard Bug,Sunroof,The Classic Beetle,Treffen,Type 1,Vintage,Vintage Beetle,Vintage Bug,Volks,Volkswagen,VW,Wolfsburg
Categories: General News,Newsletter
---