Added September 29, 2011 by Chris Vallone
Hey My VduB BuDs!
Well September is gone, cya summer, now it is time for fall, and the fall is a great time to drive the vintage VW.
What I have in store for you this week;
-My Air-Cooled VW Gathering is this Sunday Oct. 2nd
-I have a new video Tip on Floor Pan Seal gasket
-Part 3 of the So Cal Treffen Video is done!
MY FALL FOLIAGE AIR-COOLED GATHERING THIS SUNDAY
Come one come all! Reminder that the Fall Air-Cooled Gathering is at my shop this Sunday Oct. 2nd 2011 from 10am-1pm. Show off your air-cooled DuB of any shape and size, chat, mingle, relax, go apple picking, bring a picnic, whatever! This will be a great kick-off to the fall. Weather man says sunny and cool mid 60s, looks like we are good to go.
I made a video this week of our last show we put on.

We have plenty of room for more cars, lets keep growing!
Address: 22 Burts Rd. Congers NY 10920
ALSO, Oct. 22, 2011 will be the 30 Mile Cruise into the Hudson Valley! I will have more details at this Sunday's gathering. You can also email me at chris@classicvwbugs.com or call 845.290.9900 for more info. Shine only, if it rains stay home. If you want to be a part of the cruise, you must be at my shop by 9am, we depart at 10am and head north into the scenic Hudson Valley, perfect time to see the foliage.
NEW VIDEO TIP
I have a new video tip for everyone this week, and that is "How to Setup your Floor Pan Gasket Seal." When you are doing a body off restoration for your classic VW, it is wise to change the pan gasket. I give you some tips here on how to set it up correctly.

PART 3 OF THE SO CAL VINTAGE VW TREFFEN VIDEO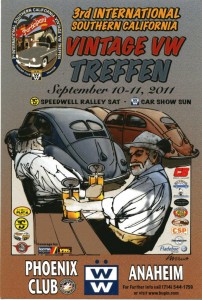 I finally finished editing the So Cal Vintage VW Treffen show this week. This time I went inside to some of the more special cars, like a HeB, split verts, Buses, & a Denzel.
If you are restoring a VW, take note of some of the cars on display, you may learn a thing or two.
Such a cool show, can't wait to go in two years!
Watch Here

Until then, have a great weekend!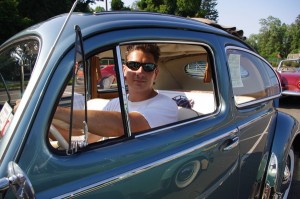 Chris Vallone
---
Tags: 1192cc,1200cc,1600cc,1950s,1959,1971,36hp,40hp,60s beetles,60s vw bugs,70s beetles,70s vw bugs,Air-Cooled,Aircooled,Beetle,Bug,bug show,Classic Beetle,Classic Bug,Classic VW Beetle,Classic VW Bugs,Euro,Euro Sedan,German,Germany,Kafer,Old Bug,oldbug,oval window,Ragtop,resto,restoration,so cal treffen,Standard Beetle,Standard Bug,Sunroof,The Classic Beetle,Treffen,Type 1,Vintage,Vintage Beetle,Vintage Bug,Volks,Volkswagen,VW,VW Treffen,Wolfsburg
Categories: General News,Newsletter
---