Added September 19, 2011 by Chris Vallone
Hey Guys!
I took some photos of my 1955 Beetle Ragtop at this years Concours D' Elegance. Some heavy caliber cars there. It was great to be accepted, it was the 1st time the show actually accepted a VW Beetle, and it was my baby!
Wayne Carini from "Chasing Classic Cars" came over and met with my Pops and I and commented on the bug as well. We drew such a crowd at one point, it was intense. There were Million $$ cars around us and more people came to our car over theirs, it was nutty! I guess more people can relate to the BuG! It was a beautiful day, something I will always remember.
See the SLIDESHOW GALLERY HERE
Chris Vallone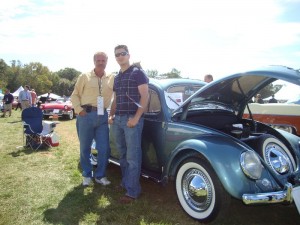 My 1955 Ragtop ScrapBook!

Click here to view this photo book larger
---
---