Added September 16, 2011 by Chris Vallone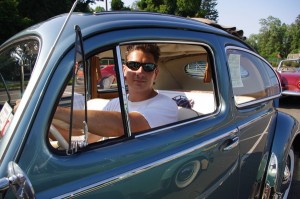 Hey My VduB BuDs!
Man September is here in FULL swing in NY and the weather is Cooool, Crisp, Refreshing! This is one of my favorite times of the year to take a drive.
Classic VW BuGs Web 2.0 A Relaunch!
I am very proud to announce that my website www.ClassicVWbugs.com has had a complete redesign and has RELAUNCHED! Please take a look at the redesign that my pal, my partner in crime, my very dear Goombada Cicci Tony Torres did for me. I think she looks great, it is totally geared for the Social Networks and updatable on the fly.
Visitors can now leave comments that can be posted on the site and even redirected onto FB and Twitter if need be. I want to hear what you guys think! Please leave me a comment or suggestion.
I wanted to make this site simple to navigate, vintage, but geared to todays social world. I hope she turned out ok for ya, please let me know.
THE VINTAGE VW TREFFEN in SO CAL.!!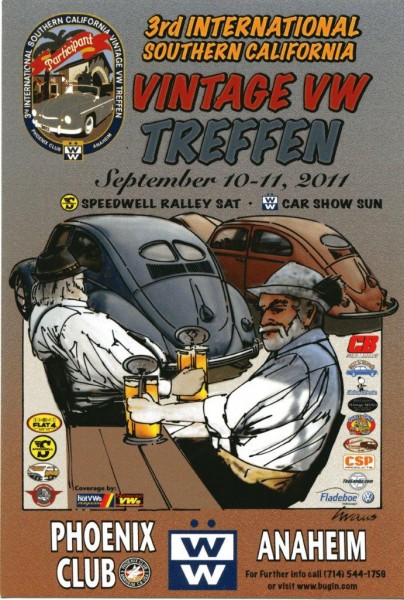 Ok, can I just say I had the time of my life last weekend going out to Cali with my bud Dave West (Another VW NuT). We saw some of the most amazing vintage VWs we have ever seen. Some really rare exotic VWs were on display, only '59 and earlier were allowed in. You only saw Split or Oval window Bugs there. To me this was like the Concours D' Elegance of VWs, my favorite VW show to date by far. Next we gotta go to Germany for the Bad Camberg to top this.
I took hours of footage of the show, I could not get enough. Part 1 is available to view in HD off of my new site or on YouTube. Check it out HERE.
The time went by so fast I didn't want it to end. This first part video covers the Pre-Treffen gathering at the "Cars & Coffee" show held on Saturday the 10th. It was then followed by a cruise ralley around So Cal. I will have Part 2 available next week, just super busy this week catching up on email, phone calls, and of course getting ready for the….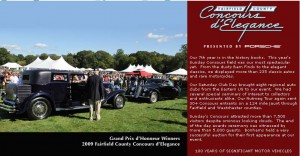 The FairField County Concours D' Elegance!
YES, my 1955 VW Ragtop Beetle was accpeted to this years Concours, the first time the show has ever accepted a Beetle. Wish me luck as I head out to this prestigious show. I will be taking photos and video as well so stay tuned, looks to be a picture perfect weekend.
VINTAGE CRUISE!
Still working on it guys, so far Bear Mountain has turned down the cruise as far as a stop for us. We can go there, but they will not designate a spot for us. We would have to park among all the newer cars and pay 8 bucks to park. They STiNK! I will be calling a few other places today to find out a stopping ground, preferably during an Oktober Fest. I am looking to do this now on October 22nd or 23rd, stay tuned.
ANOTHER GATHERING AT MY SHOP!
I will be having another Air-Cooled Gathering at my shop to Kick off the Fall on Sunday Oct. 2nd from 10-1pm. Come gather, chat, mingle, and relax in the VW atmosphere at 22 Burts Rd. in Congers NY. Bring your VW and chill out, would love to have you. Open house at the shop as well, see the latest projects we are working on. If it rains, stay home.
Until then, have a great weekend,
Chris Vallone
www.ClassicVWbugs.com
---
Tags: 1192cc,1200cc,1600cc,1950s,1971,36hp,40hp,60s beetles,60s vw bugs,Air-Cooled,Aircooled,Beetle,bug show,Classic Beetle,Classic Bug,Classic VW Beetle,Classic VW Bugs,concours,Concous d' Elegance,Euro,Euro Sedan,German,Germany,Kafer,Old Bug,oldbug,oval window,Ragtop,resto,restoration,Standard Beetle,Standard Bug,Sunroof,The Classic Beetle,Type 1,Vintage,Vintage Beetle,Vintage Bug,Vintage Treffen,Volks,Volkswagen,VW,VW Treffen,Wolfsburg
Categories: Newsletter
---